Xporience Online Exhibitor Manual enhances the overall event experience of Exhibitors and enables seamless communication between Exhibitors and Organizers.
Organizers can easily manage various Exhibitor Forms, Product Orders, Contractors and Supplier logins, custom e-mailers, Content Management System (CMS), real time reports and analytics. Exhibitors can track the progress of their form submissions, product orders and receive notifications from the organizer.
Xporience Online Exhibitor Manual Features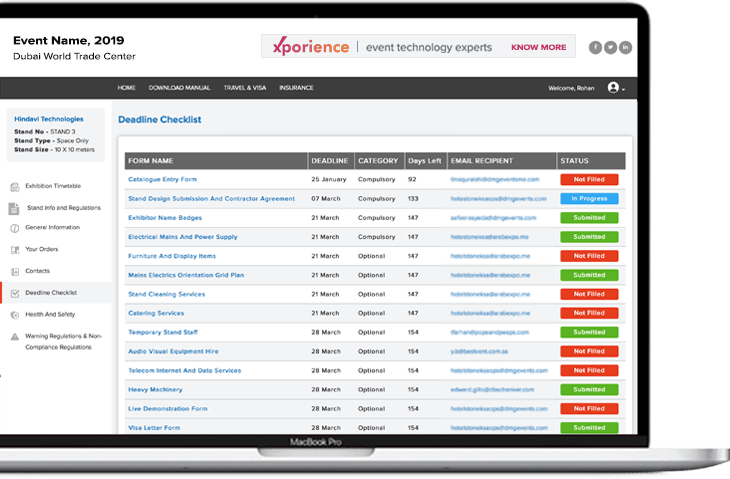 Fully Customizable Forms & Exhibitor Dashboards
Products & Order Management
Messaging and notification platform
Supplier, Vendor and Contractor Logins
Integration with third party applications & portals
Document Management Module
Content Management Module
Payment Gateway Integration
System and Custom e-mailers
Custom Reports and Event Analytics
Admin Dashboard to manage multiple Events.
Xporience Lead Capture Exhibitor Dashboard can be integrated into the Online Exhibitor
Manual. To know more about our Lead Capture App for Exhibitors
Setup your Online Exhibitor Manual Now!
Fill in your details and our event-tech expert will get in touch with you !