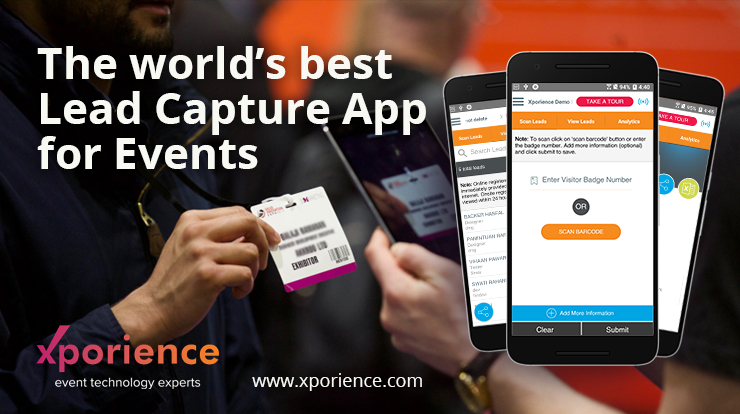 Why a Lead Capture App is required?
Visitor data is of utmost importance for Exhibitors or Sponsors at a trade-show or conference. Especially when dealing with a crowded booth and multiple prospects at the same time. Just exchanging a visitor card is simply not enough since –
Recalling the exact and sensitive information during interaction with each of the prospect is virtually impossible.
It is time consuming to digitize the data, can lead to data loss and ultimately cause delays in chasing the prospect that is busy shopping next-door.
One cannot enhance the experience of the visitor by making him feel special – especially after he leaves your booth.
Behold – Cometh Xporience with the world's best Lead Capture App to rescue!
The Xporience Lead Capture (or Lead Retrieval) App solves all these challenges. Exhibitors and Sponsors can use the app to just scan the barcode or QR code on Visitor Badges (almost 90 percent of tradeshow will have these as mandatory requirement) and get precise information about the prospect visiting the booth instantly.
Exhibitors can immediately send a custom email to the prospect thanking him for visiting the booth or event shoot an sms with relevant information – which could greatly enhance the visitor experience and recall value.
In most cases, the Lead Capture App is rolled out by the Event Organizers as a value-add service (paid of free). Though there are many such products in the market, Xporience provides the best benefits for the lead capture app –
Easy to setup and deploy (no additional costs or initial investment)
Zero app maintenance fees
Client Labeled Lead Capture App for Events.
Flexible engagement models (Revenue share/ flat fee)
No-cost third party integrations with the Lead Capture App.
Free lifetime feature enhancements.
Why Xporience is the best Lead Capture App? – The top 10 features –
Offline Mode – Most venues have poor connectivity. The Lead capture app captures leads offline and then syncs all leads when device connects to Internet.
Manual/ Auto Scan Feature – The app has a manual entry option in case the visitor badge cannot be recognized (due to poor lighting) apart from the auto-scans.
QR code selector – The Lead Capture app lets the organizers choose specific barcodes or QR code types per event so that exact visitor information can be captured through the lead capture app
Background Sync – All captured leads are synced in the background so that lead capturing can continue seamlessly during the show.
Exhibitor Dashboard – Exhibitors employ multiple booth-staff to capture leads. The Xporience Lead Capture App provides an Exhibitor Dashboard where all staff leads can be collectively viewed, downloaded and analyzed.
In-app analytics – Lead Capture App has in-app analytics for no. of scanned leads, no. of synced leads, and other relevant metrics that empower the app user.
Export Leads in-app – Xporience Lead Capture app lets the app user export all leads data directly to any CRM or share via email, social media for faster followups.
Audio Notes – Xporience Lead capture app user can quickly add audio notes instead of typing and capture sensitive information related to a particular prospect.
In-app and Push Notifications – In-app push notifications from Organizer can be a sharp tool to engage app users and motivate them to scan leads. Push notifications can also be used as a marketing tool.
Custom emailers and sms – Send custom emailer or sms to the captured lead immediately for enhanced visitor experience through the Xporience lead capture app.
Above all, the Xporience Lead Capture App has a robust back-end system to handle visitor data (or import it in bulk) and manage Exhibitors, booth-staff information. The system automates emailers, has extensive analytics section to view adoption rates; revenues and important lead capture metrics related to the event.
Looking for the best Lead Capture App for your event? Look no further and let Xporience – Event Technology Experts deploy the perfect App for your next event. Visit www.xporience.com for more information.
The author – Rohan Karnataki, is the Founder & CEO of Xporience – Event Technology Experts. Rohan is at the forefront of Event Technology trends and leads Xporience with a vision to empower event organizers by deploying the best event technology tools that reduce operational costs, generate revenue channels, and enhance overall experience of all stakeholders of an event.