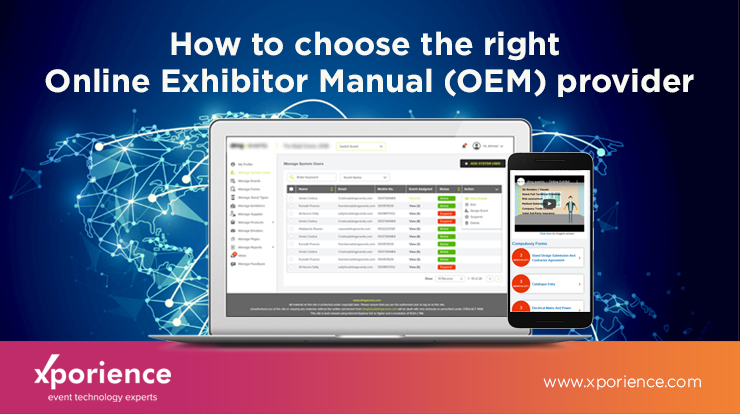 Introduction
The Online Exhibitor Manual (OEM) is the backbone of any Exhibition or Trade Show. It is the single-most important channel of communication between the Event Organizer and Exhibitor.
Organizers can convey all relevant event information, deadlines, policies,
documentation through the Online Exhibitor Manual and Exhibitors can submit
their requests and order products.
It is necessary to choose the right OEM Provider for many reasons. If the manual
is sub-standard, then it will greatly impact the exhibitor experience and cause hurdles in seamless event management for the organizers operations team.
Right from the event manual setup, management of various operational and
marketing forms to form submissions and report generation – the Online
Exhibitor Manual must work without any glitches.
Event Organizers should consider the following points while choosing the
right Online Exhibitor Manual (OEM) Provider –
Online Exhibitor Manual Features – The OEM should have all the basic
features required to setup an event manual within a week. Some of the basic
features must include –

Customizable forms
Mobile Device Compatibility
Event branded exhibitor dashboard Layout
Content Management System
Menu content management
Document Library Management System
Products & Order Management
Badge Management Module
Invoice Management
Advertising and Marketing Opportunities Module
Email management module/ Automated email notifications
Form deadline management – Reset submitted Forms, Extend deadlines, etc
Custom Reports & Event Analytics

Online Exhibitor Manual Customization – Every organizer has different event management workflows. Hence, the OEM must be flexible enough to undertake customizations as per Organizers requirements. Usually, the customizations should be part of the contract and a good OEM provider will not charge for such initial customizations while setting up and configuration of the manual. Customizations might include – custom forms, new user dashboards,workflows to manage form submissions, custom reporting, co-exhibitor workflow, marketing forms, etc.
Third Party Integrations – Organizers must choose a capable Online Exhibitor Manual provider who has experience working with several third party applications, tools and vendors. Most of the times, the online exhibitor manual is the focal point of exhibitor information, which must flow seamlessly to other third party applications. Therefore, third party integrations form the most critical aspect of service manual setup. Integrations are mainly to push/pull bulk exhibitor data, SSO Integration and for status Reporting in the manual.Some of the third party integrations include integration with CRM's (SAP, Salesforce, SAP, etc), Registration System Provider and Event Website Provider. Integrations might also include Payment Gateways, e-commerce platforms, etc.
Online & Onsite Support – The Online Exhibitor Manual (OEM) provider must have robust capabilities to provide support to operations team online and have the least turn-around time for response. 24/7 availability is most preferable to address last minute changes and issues. OEM provider must also be able to provide onsite support to the organizer when required.
Pricing Model – Event Organizers must choose a provider with the most transparent pricing model. Some of the costs to consider are license fees, infrastructure cost, maintenance & support, etc. If the organizer has multiple events, then negotiating a fixed price for entire year is more preferable to both the parties. Most important aspect is to check for any hidden fees. OEM provider might charge low upfront fee to get a step in the door and then charge exorbitantly for small changes like customizations, additional support, bandwidth limits, enhancements, etc driving the overall costs higher.
Maintenance & Enhancements – A great Online Exhibitor Manual (OEM) vendor always works with the intent of creating a better manual based on customer feedback. Some of the enhancements that can be done are –

Exhibitor Directory Listing (Web Page dynamically integrated with Event website)
Real time Exhibitor Dashboard View
Custom Dashboards for Exhibitors, Co-exhibitors, Suppliers, Agents, Contractors, Sub-Contractors
Manage Multiple Events from a Single Dashboard
Event Archive Feature
Event Duplication Feature
Custom Email reminder module
IP whitelisting

GDPR Compliance – GDPR is a regulation that requires businesses to protect the personal data and privacy of users for all online transactions.GDPR sets out seven principles for the lawful processing of personal data.
Processing includes the collection, organization, structuring, storage, alteration, consultation, use, communication, combination, restriction, erasure or destruction of personal data. Event Organizer must ensure that the OEM provider caters to all these requirements and has implemented necessary protocols in the Event Manual.
Security Policies – Information and Data Security is one of the most crucial aspect of Event industry. Not only must the OEM provider have stringent data protection policies (like ISO 27001), but also be able to implement the policies within premise and into the OEM application.
IT Infrastructure – The OEM provider must be able to product evidence of a reliable, trustworthy
and secure network to host the Online Exhibitor Manual (OEM). Most preferred as Amazon Web Service and Microsoft Azure platforms. IT infrastructure must have the most optimum architecture for best performance and security. This might include standby servers, backup policies, web application firewall (WAF), auto-scaling servers, etc
Vendor Insurance – Event Organizer must include Vendor Insurance in the contract. Not only does it make the vendor accountable for mistakes, but also tests the willingness toprotect both businesses with proper insurance policies.
Conclusion
Event Organizers must always choose a reliable, trustworthy and ethical Online Exhibitor Manual (OEM) provider that is committed to work with a long-term perspective and willing to work on creating a better manual with every feedback coming from exhibitors and organizer. Asking for a couple of client references is really a great idea. After all, OEM can impact whether an exhibitor is likely to return for the next event edition!
Xporience – Event Technology Experts is a 360 degree event management
platform for exhibitions and conferences. Xporience Online Exhibitor Manual
(OEM) is being used by world's best event organizers globally.
Visit . Schedule a demo or Start your free trial today!