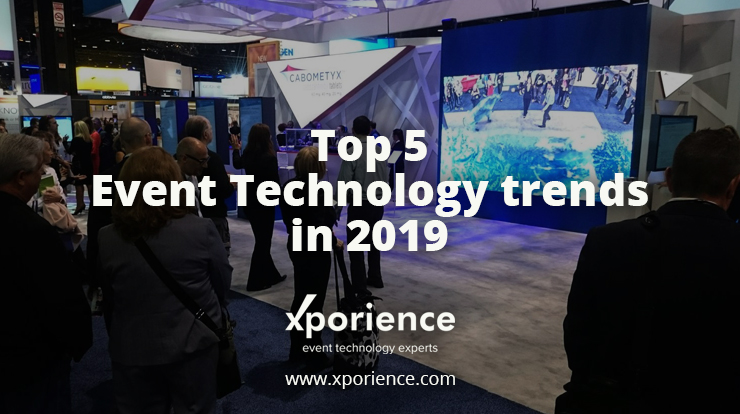 Successful B2B and B2C event organizers follow the latest Event Technology trends to stand apart and improve their value proposition. Online presence, websites, mobile apps, social media pages, etc. are used to promote products and services. But if we talk about traditional marketing, businesses need to focus more on events. Either organize corporate events or take part in one.
With every step forward in the promotion and marketing industry, organizations are expanding their marketing techniques, opting for unique and creative solutions. Events can be of multiple types such as corporate events, promotional events, celebrity endorsements, etc.
In the year 2016, B2B industry event revenue was 30.3 billion U.S. dollars. Source: Statista. This statistic gives a clear image of the success of business events. Businesses opt for different event management companies and event planners to create a memorable event. Events are ultimate platforms to showcase services, products, generate leads, attract more prospects, generate in-person contacts, etc.
How do you convert an event into an experience? Displays, personalized invitations, promotional merchandises, etc. are used to enhance event marketing. All these techniques are a part of traditional marketing. We have entered 2019 and this needs to be reflected through the events as well. Integrating technology with events can boost your lead generation and the fundamental objectives of events. Involving technology in events can change the complete game and increase the interest of attendees. People all over the world are obsessed with amazing technologies such as artificial intelligence, internet of things, bots, etc. Integrating these with events can increase the number of attendees.
In this article, we are going to explain evolving event technology trends for the year 2019.
1. Holograms (AR) – Projection Mapping:
Event planners can benefit from various technologies such as augmented reality. The hologram is an image of the interference pattern which is used to form three dimensional pictures. Augmented reality system uses a prism to create the light from holographic display in the surrounding. Holograms use spatial phase modulator and the coherent light to directly modulate wavefront pass through it. These Augmented reality holograms can be used in corporate events to allow speakers to communicate with event attendees from the remote area. Organizations can even make use of AR-based holograms to display certain presentations in a unique manner to attract attendees. This is the best way to get the spotlight in a heavily competitive environment. Hologram-based AR offers exciting new means of content consumption and is going to become a major marketing channel. The best part about AR is that it has easy accessibility with Apple AR kit and some smartphone apps.
2. IoT interference pattern:
As per a report by Statista https://www.statista.com/statistics/471264/iot-number-of-connected-devices-worldwide/ there will be 75.44 billion IoT devices till the year 2025. Internet of things allows event organizers to track actions by event attendees and collect data to get an insight into their event journey. Through internet of things, businesses can get data about what part of event gained most attention or which time of event had most visits. IoT offers metrics like dwell time and repeats visits that help businesses understand the key points of events.
3. Virtual reality (VR):
We are definitely going to see an upsurge in virtual reality functions in 2019. A most common challenge in all corporate, as well as business events, is the availability of speakers. Virtual reality can bring an end to this challenge. Speakers who are unable to attend the events can interact with attendees through VR devices. The good news is that VR costs are coming down. You being an event planner can create amazing ways to leverage virtual reality to create interactive displays and experiences. Attendees can experience 360 degrees 3D images with VR devices to immerse in inaccessible places and experiences.
4. AI-powered Chatbots / Voicebots:
Artificial intelligence has always been a trend in all sectors. Be it marketing or any field, AI is used a lot these days. It is basically creating smart machines. Artificial intelligence is primarily used to offer next-level personalization to attendees. AI can be used to allow attendees to visit events of their interest. This surely requires the help of Big Data. But here we are talking about AI powered chatbots. It is a form of machine learning. All you need to do is, hire a team of professional programmers to build a smart AI-powered chatbot. As the AI technology learns from current and previous data of users, it can be used to teach voice bots/chatbots as well. The chatbots are programmed to answer different queries in events. These voice interactive devices can help attendees interact with smart machines and get valuable answers for each query.
5. Facial recognition:
Facial recognition is the fastest biometric technology to detect and identify faces. It uses certain mathematical algorithms to detect different facial patterns of attendees. Event organizers can use facial recognition for attendee management, attendance, behaviour mapping, and attendee engagement. The biggest benefit of facial recognition is enhanced security.
Conclusion:
Technology is a ladder for every successful event. These trends will help event planners around the world to offer an amazing experience to attendees.